Hi October. You came to visit me so early this year! I'm happy to see you, don't get me wrong... it's just that you've caught me a bit off guard. You see, I haven't even begun to think of what to be this year for Halloween... why do you always back me into these corners? That's it October, we need to take a step back and think about this.
So far I've had three ideas. One is too horrible to write online, so here are the others:
- Disco-dancing Saddam Hussein
- Space Pirate - this would be an astronaut suit re-done to be a pirate astronaut
Other ideas I've thought of haven't really made it. The other thing to consider is that I'll be
Thriller Dancing
(pending) in this outfit at
Circus Contraption's Halloween Blowout party @ the Showbox
- if you're in the Seattle area, ohhh you'd better be there! So I suppose it would really be a zombie-astronaut-pirate thing...
Speaking of Thriller, I've grown rather fond of the
Indian version
and may begin practicing this one instead.
In other news,
Batwoman is gay
. Why am I always the last to know?
Alice and I are going to see
Math and Physics Club
on Saturday at the Sunset - CD release party! I've been a fan of these guys for a while, you may recall the
guest comment by violin player Saundrah
from the last time I saw them at the Sunset! Funny that I link to that post, because I've been feeling that same hunger for a concertina again...
The other night I was thinking about people, cats, and race. So many people are racist... from hate crimes to just clumping together for comfort in racially similar clusters. But look at cats - black, white, orange tabby, grey, mixtures... they don't really care. Similarly colored cats don't particularly stick together, and they only diss the asshole cats, not the differently colored ones. I don't know. Beats me. I suppose having a simpler brain brings on many benefits like an absence of racism and hate crimes.
I tried to quickly see if any research has been done on racist cats and only
found this
. See, proves my point exactly...
Why was I thinking about cats? I was thinking back to a month ago when I helped move my parents down to California. We brought
nine
cats with us in the back of a pickup truck... wtf? My dad and I spent several hours trying to catch the last few. These cats are half-wild but he doesn't have the heart to leave them in Oregon, so we tried to bring as many as we could to Cali. Imagine, the sun has gone down, and you're about 20 yards away from a cage with food in it with a little string tied to the cage door... waiting... just waiting for the cat you scared half an hour ago to come back. This riveting scene was my life for a very brief time.
Ok, enough about cats. If you're one of my computer dork readers, check out these two awesome comics I came across: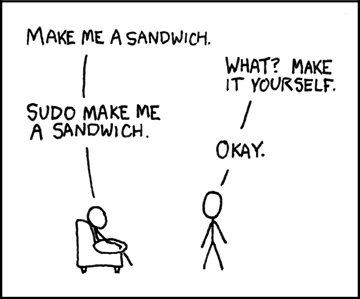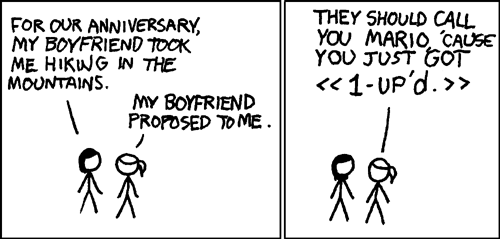 You may notice a new type-in-the-letters-below thing on my comments box... that's because I'm tired of deleting about 5-10 spambot messages every day, aye chihuahua, it's too much for me.
Alfredo, 10-9-2006 with $4.13
Ray Charles, circa 1959