Download in Windows Media format (12.6 M)
Download in Windows Media format (4.9 M)
What is it?
As Lead Developer of LuxuryRealEstate.com, I'm no stranger to finding ways to liven up the day post-work. Felow workmate Won Ton Jon, and our mascot Ty-Bo, discovered that jumping into Lake Washington via floatable BMX was a great way to liven up any day. This is proof. We're so XXX-TREME!
Date
08-22-2005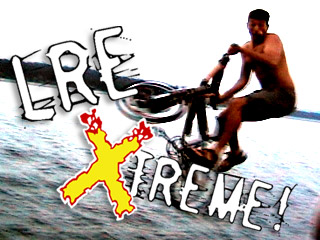 Notes
· We actually had two jumps · the big one and the weenie one
· It took Jon and Tyler some time to get the bike to float. The secret? A second layer of syrofoam, and an inflated innertube woven in the spokes of the front tire.
· Poor Jon and Tyler were waiting nearly two hours for the rest of us to arrive
· Nobody got hurt! Except Jason. And me. And Joey. And Jon.
· This is just a stone's throw from
Circus Contraption
HQ, and right by the actual area where
Cirque de Flambe
holds their performances.
Tech
I did this with Premiere in three hours after the event · new record?
Credits