Download in Windows Media format (4 M)
Download in Windows Media format (1.6 M)
What is it?
Michael Jackson's Thriller Dance, as performed at the 2004 Circus Contraption Halloween Blowout.
This is not the entire song. Rather, it is the 'dancing zombies in the street' portion of the song.
I can be seen as Colonel Sanders (from beyooooond the graaaaave), at the front-right corner. My homeboy James is right behind me, zombied up with long 80s rocker hair. My homegirl Andrea is a little trickier to spot · she's wearing a slashed orange shirt and is in the middle of the fifth row back.
Date
10-29-2004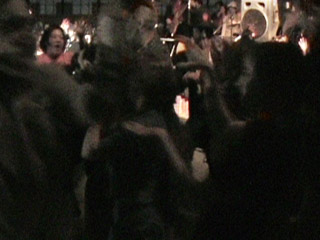 Notes
· This was a lot of fun, even though it was probably the worst we've ever been (it was quite hard to hear the music)
· This required three practices during the two weeks leading up to the event.
Credits
| | |
| --- | --- |
| Music | The Circus Contraption Band |
| Dancing Zombies | Numerous Thriller fans |
| Camera | Elicia |