Download in Windows Media format (6.4 M)
Download in Windows Media format (2.5 M)
What is it?
Back in junior high my friend Jeromie Bunch came upon some seal bombs · bombs that create big, loud explosions to keep seals away from fishing boats, or something like that. Being the Halloween season, Zac, Bunch and I decided that a great way to pass a Saturday was to blow up some pumpkins from school. That's what we did, alright.
Date
10-14-1995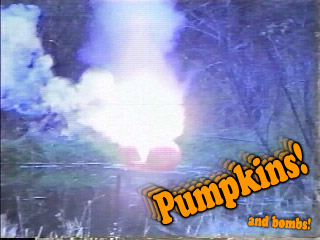 Notes
· This is just a quick edit. The real 'video' goes about half an hour
· I left in a quick clip of our 'prep time' playing Monster Truck Madness. Quite a contrast to games today. Still pretty good for being a whole decade old!
· Only dead pumpkins were harmed in the making of this film, although Zac and I both nearly got our hands set aflame during an illegal fireworks segment that I cut out (very boring overall)
· Wow, I forgot that I had posters of puppies and kittens on my wall during that time.
· I made a note to purposely edit out all the really embarassing early-teen moments for all parties. Remember that you too were quite akward and silly as an early teen.
Tech
· The original version of this was edited using the incredible two-VCR method. No sound effects or music were ever added.
Credits
Cast:
Zac
Zac Byers
Michael
Michael Karikas
Bunch
Jeromie Bunch