Download in Windows Media format (9.3 M)
Download in Windows Media format (3.7 M)
What is it?
This is a video I created for my cat-loving coworker, Matt. Its purpose was to be given to his wife on her birthday, though I suspect the real reason is because he's wanted to see his cats fight to music for years.
Date
12-10-2004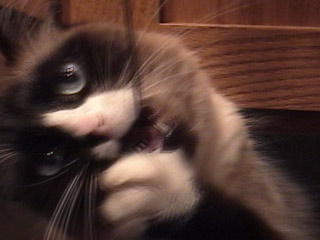 Notes
· Matt gave me
three hours
of cat footage to look through.
· I had to enlist homeboys
Panda
and
Jason
to get some good music that fit
Tech
· Edited with Premiere Pro and a lot of gumption.
· Took about 14 hours altogether.
Credits
Editing and assembly
Michael Karikas
Fearless Cameraman
Matthew Haber
Musical Bounty Hunter
Panda Johnson
Musical Bounty Hunter
Jason LeMoine
Tunes
Harry Gregson-Williams
Ray Escapes (MGS2)
Survivor
Eye of the Tiger
Se Il Mio Amore Sta Vincino