Download in Windows Media format (19.1 M)
Download in Windows Media format (9.1 M)
What is it?
This splendid piece of claymation was yet another Zac N' Krack film made during high school. As a follow-up to the 1996 smash hit "Chipalo's", this film incorporated several new computer compositions and effects, and reflected our influences during the end of the '90s... namely Celebrity Deathmatch, popular music, and pro wrestling.
Looking back... this movie has a wee racist twinge to it ("Nacho! Guacamole!"), but no harm was intended. I have a lot of family from Gautemala.
Date
01-17-1999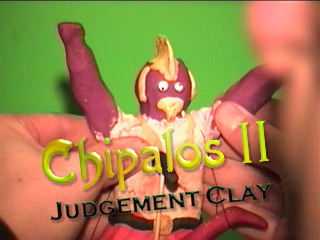 Notes
· This movie was a real pain to make. Stop motion is a loooong process. Zac and I got real bitchy towards each other.
· The clay we used wasn't any special clay like Sculpy · it's just clay from the local store. Thus, it tended to melt quickly under our overhead light, which made production similar to a game of hot potato.
· This is the only movie that has a special guest voice outside of me, Zac, or Bunch.
Tech
· Video capture with a Marox G200 video card.
· Images were fed directly into the computer and captured · no video footage was ever shot (with the exception of the talking heads scene).
· Edited on Premier 4.2.
· Green screen courtesy of Wal*Mart's posterboard section. Without neon green posterboard, we'd be lost.
Credits
Cast
Mr. Perfection
Zac Byers
Johnny Krack
Mike Karikas
Voice Actors
Klay-Dawg
Mike Karikas
Pezzito
Zac Byers
Juanita
Ramirose Attebury
Scabb
Zac Byers
Scabb's Band Members
Mike Karikas
Hulk Hogan
Himself (moaning by Mike Karikas)
Music
WWF
Konnan's Theme
The Offspring
Smash Secret Track
Rob Zombie
Dragula
The Offspring
DUI
WWF
D-Generation X Theme
WCW
Eddy Guerro Theme
3D Realms
Duke Nukem Theme
White Zombie
More Human Than Human
Jimi Hendrix
Voodoo Child