Andrea and I went to Pal-Do Worrd yesterday, which resulted in my purchase of many strange and wonderful Korean foods that I've had a craving for. I bought a lot of beverages with 'surprises' in them - skined grapes or jelly, for example. I also bought a 6lb 10oz monster can of water chestnuts. It was $3! Can you believe that? I'm totally going to open my own Chinese restaurant. I used some of those sweet chestnuts tonight, so I had to put the other 6lbs, 8oz in tupperware. There's a lot of tupperware in the fridge now.
Today I played around with an alternate design for this site, since it's not the prettiest blog out there, though I do love that DOS fixedsys font. I was up until the wee hours last night working on this: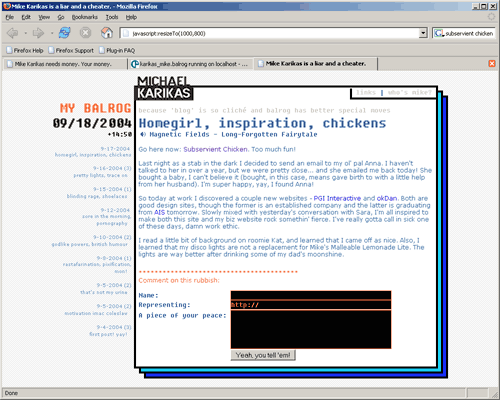 I think it's a step in the right direction, but not there yet. Needs some Verdana. Too bad I spent this morning doing it all up in html before realizing I should work on it more =P.
Umm, I watched a little bit of the Emmy's tonight. I found out that it's ok for the bigger personalities to not have much of a personality, and for the unknowns (writers, etc) to be hilarious. And Zack Braff's still a funny guy. And sometimes people are akward. And I need to check out 'Deadwood' and some crazy grandmother on HBO - I never knew about those shows before.
Haiku:
Bed, oh sweet slumber
Welcome me into your sheets
Giant fish pillow

jared, 9-21-2004 with $8.34
i suggest using some kind of viral marketing in your new design. its the new buzzword for the next financial quarter :D