On Tuesday I decided to betray the sandwich I brought to work for lunch and go have dim sum w/ some work folk. Long story short - somebody must have simmered the scallops in their own plegm, because immediately after leaving the establishment I began to get a tickle in my throat, followed by much sickness by the end of the work day, all of which I attributed to food poisoning.
Turns out it's the bloody flu! Argh! I knew I should've gotten a flu shot when I was in Vancouver last week. So now it's Saturday, I still feel sick, and therefore am waiving all opportunities for seeing people, having fun, etc. Even simple things, like doing anything that would be interrupted by my falling asleep every two hours. No circus class, friends turned down, booooo.
Despite this terrible plague, I have been able to do the following:
The Magnetic Fields show was incredible. One of those bands where the air is filled with beautiful auralistics! They were a lot of fun on stage, too - the pianist/singer gal and ukelele/singer guy had a great interaction between them, her stealing his monster, his pulling on her microphone cord... fun stuff.
I was in awe of how great their instruments sounded together - a piano, ukelele, guitar (switched out with a banjo at times), and a cello. I don't think I've ever paid attention to somebody playing the cello. It is an amazing and dynamic instrument - if I could do it all over again, I'd learn cello and get a real kick-ass vibrato goin' on.
The opening guy was really good too - he had a song about Squash (the game), because there aren't enough songs about Squash, and signed a CD Andrea bought saying 'To Andrea. I'm short. Darron Hannasomethingidontremember'.
Hey, I also found out that
Don Hertzfeld
has named his upcoming film "The Meaning of Life". I am really looking forward to this new animation of his - it's been four years in the making, all shot using film, no computer intervention, and promises some mindblowing stuff. Looks like I'll be seeing it sometime in February/March, when his next Animation Show festival hits town. Here is an image I stole from his website: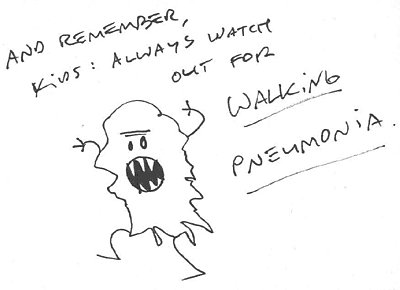 And at long last, here is my Clue table (1949!):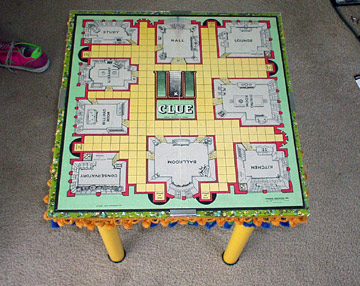 Mike, 11-14-2004 with $15.59
Thanks guys - I'm finally starting to feel a little better today. Oi.
Jason - we can coordinate. I'll get the first and third Fridays, you can get the second and forth. Any fifth Fridays will be forbidden.
Hey Miko, I need you to buy a UK shirt for me. Details to follow.
Jason, 11-14-2004 with $14.10
Too bad, Miko, you still won't be old enough. Mike, you beat me to the squirrel shirt, but I think I'm going to have to get it anyway. I won't wear it to work, though. Wouldn't want us to both show up wearing it....that'd be...weird. Hope you feel better.
Alfredo, 11-14-2004 with $6.51
Hey Mike, chin-up and nose down. (No fair missin' the commode!) Feel better fast, ok?
miko, 11-14-2004 with $5.09
dude i finally watched the thriller vid.... it kept me quite entertained over in the land where i have no TV!!! i wanna do it next year.!!