Wow, once again, too long since I've updated. I have several things I'd like to express. For instance:
-
Pir8Jokes.com
has received a substantial upgrade. Instead of working on Plan X all night (although I did for a couple hours), I updated Pir8Jokes.com. It received a nice facelift (though I'm not totally happy with the ropes) and shows much more information about each joke. Next on the list? Searchable jokes, permalinks to jokes, rating system, and geocoded information about submitters. For fun. I also have to redo the submit joke page and homepage... but it's getting there. ARRR!!
Speaking of jokes, the other day I had to speak in front of all my coworkers and give out their bonuses, as punishment for my own damn impatience with 'the man'. My bad. Anyway, I told them all a pirate joke... sizing up the crowd, I said 'Ok.. we're all cool here, right? How was the test tube baby pirate born? ARRRRRrrrrggghhh-tificial insemination!' There was much rolling of eyes. I suppose test tube babies aren't really artifically inseminated, now that I think about it. I try not to think about that stuff. I do like thinking about pirate jokes, however.
-
Panda
was here for several days last week while apartment hunting - he even found one! He's going to be a block or two down from my place, which should be fun, in that fantasy world where I'm actually home for extended lengths of time. This also means that I will indeed be going to
PAX
, although I'm a little concerned about being a little too geeked out there. Should still be fun.
- I think I've been acting a little bit like an asshole at work lately. If I am, I apologize - I can't help it. There's way too much work there, and I would love to pass it along to my development homies, but they're all packed with work as well. We have become a clogged toilet. Plan X will help... mustn't speak of Plan X here. Today
Miko
, David and I all wore the exact same style t-shirt.
Here's mine
- theirs were the same, minus SuperMep. The other day I built this fort out of paper towels, it completely imprisoned the can of air freshener we have in the bathroom at work. This may come across as me not having enough to do, but on the contrary, if I didn't spend a few minutes a day making paper sculptures I'd start wearing funny hats to work or something.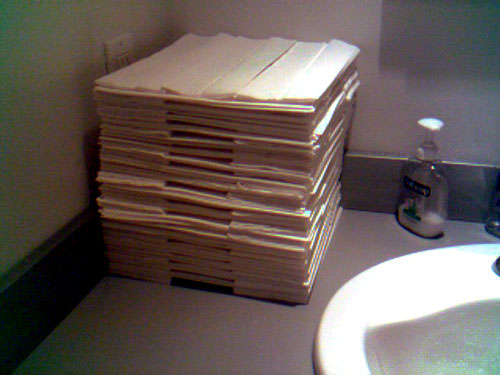 -
Jason
has become my new sugardaddy. Sweet.
- I had a fantastic weekend in Oregon last week with Alice and my parents. Waking up at noon, a day at the lake, dinner at 10:00 and ping-pong at midnight - good stuff. I do miss that place, but I don't think I can ever stay there for more than a couple weeks. Speaking of Alice, she led a group of people to the local piano bar yesterday... it was so much fun! You haven't lived until you've heard two pianos playing Billy Joel, Johnny Cash, Sir Mix-A-Lot,
and
GNR all in the same night! Gotta go back.
- Three different people called me 'buddy' the other day. Isn't that weird?
- I went to my first baseball game the other day - it was really fun! I'm a sucker for big performance-y things, and having an entire stadium of people erupt in cheers, with music and gigantic video screens, really made my day. Made up for the $8 beer.
- I'm really glad I've never gotten
this call
.
This guy
's figured out some cool stuff, though.
Next time: How
Circus Contraption
never ceases to amaze me, and possibly a study on why I run into heavy, fixed objects on the street. Also, I'm going to be a groomsman, and Alice needs good vibes for her upcoming condo purchase. And I don't know how I could be this tired.

Jason, 8-13-2005 with $16.34
Is Plan X robot slaves? Are you building us genius developer robot slaves to do all our work? Cause that would be sweet.