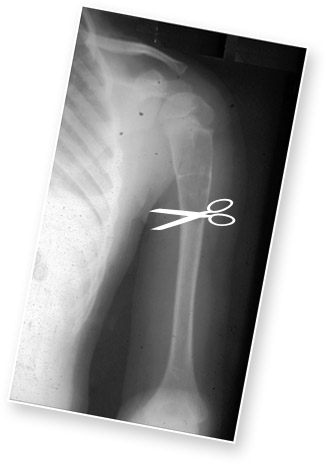 Wouldn't you know it, I still have a broken shoulder. Every day I'm getting a little better... soon I may even be able to type for more than 10 consecutive minutes without taking a breather! I cannot wait until this little bastard of an arm is working right again.
So the scoop is that I didn't break my shoulder as much as I fractured my upper arm - my
humerus
, if you will. Nothing can fracture my sense of humor. I actually thought ski patrol was relaying my demeanor when they told each other 'picked him up about 50 yards down from Waterfall Wedge, severe pain in the arm, humorous'. The troubling thing about this fracture is that it extends the entire width of my arm, as implied in the helpful illustration.
Jason
and I had The Birthday on Saturday, that was cool, I can now fully celebrate my birthday in terms of dozens. "How old are you?" "Two dozen, thank you." Alice took me out for a variety of fun activities (including a cool IMAX 3D flick of absolutely horrific creatures of the ocean, including coral porn) on my birthday, and the night before we caught up with some homies in Belltown, good times, though I paid dearly for that drinking the next day in terms of arm painage.
Zack
did get Alice and me over to
Alpacapalooza
this year, thank God, that was awesome. Photos to come.
In computer nerd news, today Microsoft supposedly released a forced update to IE, which in short requires the user to click once on an ActiveX-embedded object before being able to interact with it (like have it react if you move the mouse over or click). This means that for sites I've made (and now
offer hosting for
, y'know) and at work we had to update all our Flash websites, a big pain in the butt. I haven't seen this in action with IE 6 yet, but I know it's coming.
Behold, a cure
.
EBNY, I got your birthday card! I wondered if you'd actually send one. You can expect my Ash Wednesday card in the mail soon.
A couple other side effects from my arm: I now officially have more hair than head. I am also hopelessly addicted to Harry Potter, but as I'm still green I've steered clear of MuggleNet.
Here's what's happenin':
-
Cats in Sinks
.
-
Fibbonacci meets poetry
- that's my favorite sequence, even more than Helio.
-
Special Unicorns
.
-
Initial reaction at a job interview
.
- How to
bird watch on the internet
.
-
Seattle Flash Makeout
is an interesting concept, there's one Saturday at the Seattle Center International Fountain.

EBNY, 4-19-2006 with $21.42
Yes, well, "we" like to send birthday cards to nice people :) --Us