So I was doing something on Google Maps yesterday and discovered something! I pulled up some directions around Seattle and was dragging the route around to try different routes (you can click on the 'route' on the map and pull it onto different streets to modify the way you get to where you're going). Anyway, I noticed that if I pulled it into the ship canal (the passageway between Puget Sound and Lake Union) Google follows a trail! The directions end up as 'kayak across the Pacific Ocean'. And the funny thing is, you really can kayak down there (though I don't think you can actually take off from Gasworks Park).
Click here for the example
. I tried to embed it here but it switches over to 'regular' roads... Google, whatever.
I have seen Google map trickery if you put in directions from New York to Paris, for example, that bring you across the Atlantic... but I didn't know that they had directions to jump in the water from one of Seattle's better parks! Super fun.
Jon tells me that this could be the underwater route that the
Duck Bus
takes when it goes from land to water configuration, but I doubt it, as you can drag this route out in Google Maps out far, far into the Pacific.
I started the directions above from 3400 Phinney, home to the fantastic
Theo Chocolate Factory
and super fantastic
Circus Contraption
. I often sing their praises, and this is the last week for their much-anticipated new show, so... check it out Seattle people!!! I saw it twice and it was indeed The Show to End All Shows.
Alice, bless her sweet lovin' heart, granted a wish of mine and gave me this Hello Kitty Muppet-Puppet. I have found that I run around the house doing impromptu ventriloquist acts now, and even pull it out when I'm talking to people on the phone, enacting their speech out in Muppetry. Here is my new foam bff: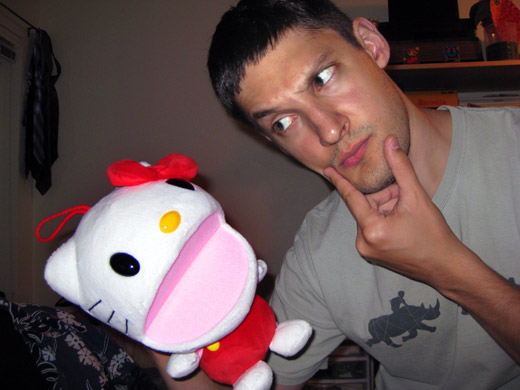 And of course everybody knows this now, because everybody loves The Offspring, but The Offspring's new album "Rise and Fall, Rage and Grace" came out last week after five years of nearly nuthin'. But don't take my word for it, you can listen to the
whole new album at my playlist here
.
It is fantastic, and I dare say that the track You're Gonna Go Far Kid is up there with my faves, though very different for them. They are my top band of all-time, staking their claim in my heart and mind way back in high school, never to be budged. And they're playing Bumbershoot this year downtown... I can't wait!