Alice and I are the proud owners of a school of seamonkeys. Born in Alice's home, and now transferred to mine, they've already lived a life of adventure in their four days of la vida loca.
I brought them to my place last night on the number 8 bus - their first field trip! The last living creature that I took on a bus was Mr. Bojangles, my unstoppable giant bushy plant.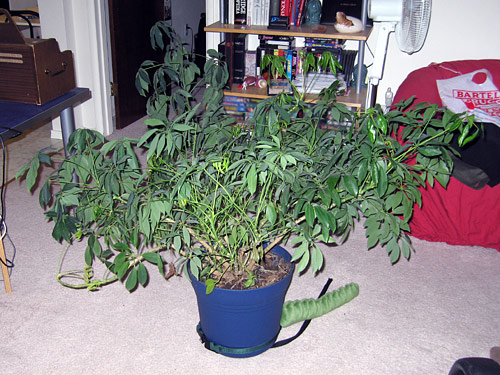 Fig 1. Mr. Bojangles.
Oh, but that was years ago. The seamonkeys and I stopped off at the Seattle Center, where we had a Hollywood-style photoshoot with the Space Needle, EMP, Sci-Fi Museum... but it was dark and they didn't really turn out.
Then we visited Tower Records, and I left with a Madonna CD and a Johnny Cash CD. Will it be me or the seamonkeys who enjoy Madonna the most? Surprisingly, nobody seemed to mind my seamonkeys in the store, and instead commented on my 'cool bag, where'd you get that man?'
Congratulations seamonkeys, for surviving your big day out!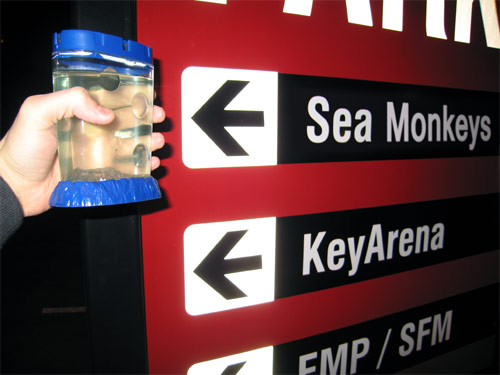 Fig 2. Seamonkeys.
Someday I hope they grow up to be as big as James' are.
One last photo - can you believe this is the same person? It's like
Steve Urkel
and Stephan Urquelle.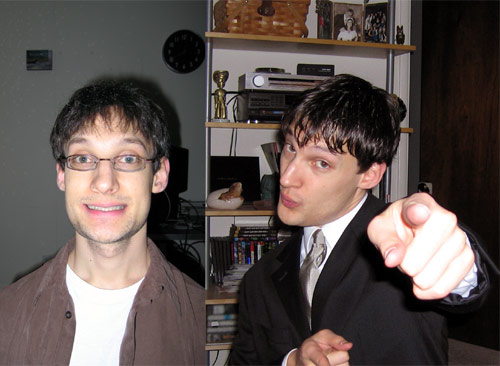 Fig 3. What a difference pilates can make overnight.
And now a waste of time:
1.YOUR ROCK STAR NAME: (first pet and current street name)
Cuddles Nob Hill Avenue North
2. YOUR MOVIE STAR NAME: (grandfather/grandmother on mother's side first name, favorite candy)
Otto Fundip (sounds better than Otto Truffle)
3. YOUR "FLY GIRL/GUY" NAME: (first initial of first name, first four letters of your last name)
M Kari
4. YOUR DETECTIVE NAME: (favorite animal, name of high school)
Alpaca Wallowa
5. YOUR SOAP OPERA NAME: (middle name, city where you were born)
Gary
Panorama
7. YOUR STAR WARS NAME: (first 3 letters of your last name, last 3 letters of mother's maiden name, first 3 letters of your pet's name)
Karnstboj
8. PORN STAR NAME: (middle name, street you grew up on)
Danger Frontage
9. YOUR FASHION DESIGNER NAME: (first word you see on your left, favorite restaurant)
Lime
Fuji
10. YOUR ATHLETIC ALL-STAR KNICK NAME: (first thing u drank this morning, last thing u drank so far)
Mango Tango Martinelli

E-Berg, 2-20-2006 with $20.11
that's a fun game. can you get a close-up shot of the seamonkeys? (do you ever wonder why they aren't seamonkies?)