Kim found this -
must buy it
.
I've been back in Seattle for about a week now - it didn't take long for this wicked city to find ways to squeeze every drop of time from my days. The good news is that the end of my trip was a blast - I got to hang out with the Extended Family Karikas - the room was abundant with oversized noses and eyelashes. They're the 'party' side of my family - the drinkers, the indulgers, the troublemakers... good times. Shared some mixed drinks with my dad in the pool. Palm Springs was amazing, but only at night (I didn't care much for the 115° weather during the day, but the 85° at night with a pool and clear sky sure was welcome!). My peeling back still hasn't forgiven me for all the UV rays it's suffered through.
Favorite quote from my California vacation:
- As spoken by a European man w/ a German accent next to me at a burger place in Hollywood -
"My friend he does not like the onions and my friend he does not like the mustard and my friend he only likes the ketchup."
It's not cool to diss people because of their ESL skills, but I'll be darned if it doesn't make me laugh...
In a tragic turn of luck, probably due to my making fun of people's ESL skills, I had terrible luck with Blue Steel this week. First, he broke down - the battery just couldn't go anymore. I'm 23 years old and I run fine, but this battery that's only a mere,
a mere
six years old just can't take it. Whatever. And, on the same day, I got not one, but
two
parking tickets. This is pretty phenomenal, because I have never, not even once, received a single parking citation before that day. Those things are expensive, goldangit.
I also spent this week hunting like mad for a suitable apartment, and wouldn't you know it, I found the perfect one in Queen Anne! It's
right behind Seattle Center
! Oh, I have plans to set up an elaborate mirror system to get the perfect Space Needle view. It's going to be rad. I'm so stoked! More later... let's see if my check bounces or not first. This place is dangerously close to
Sushi Land
. Kim, you need to snoop around Queen Anne a bit.
Alice found another apartment for me previous to this one in Queen Anne, and we both went to check it out unannounced. After buzzing the manager, who answered the phone after 10 rings, she apologized that she was asleep and would be down shortly. When she came down it was obvious she wasn't sleeping - she was drunk! Waaay drunk! She actually leaned on the side of the stairway as she stumbled down, and gave me the lingering-way-too-long drunken handshake... you should've been there. She was full of useful information though, such as "These stairs go up there" and "That's the outside of the door".
What else... The Unemployables played on Thursday, and it was a great show. They all spoke in English Accents the whole time, and
Zack
had a little vocal solo. Good stuff. Friday night dinner and bubble tea with coworkers, Saturday was Batman @ IMAX and a party at Andrea's... I hope this week is a little more chill.
Oh - tomorrow I see
Man with the Screaming Brain
, with none other than
Bruce Campbell
himself in attendance for Q+A! I'm stoked. If I could be anybody other than myself, I'd probably be him.
Here is a photo to spice this post up - it's the backside of the fourplex I currently live in, right after a fire started up in the lot next to us about a year ago. Vinyl siding is a bad idea, unless you're into that whole Dali-esque look: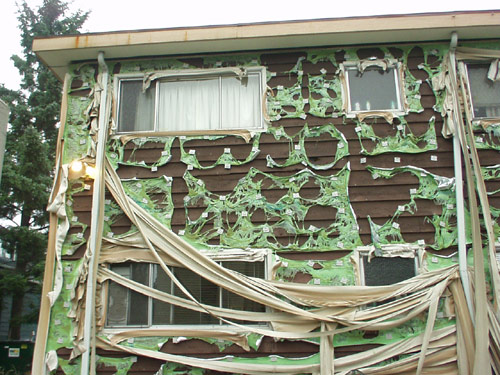 kat, 6-28-2005 with $11.01
i love that there's wood siding under the melted-off vinyl siding. i remember it smelled like barbecue the day i moved in there. mmm bbq.
Kim, 6-26-2005 with $23.01
and again (I should have condensed these comments, but more love for you, I suppose)...

I get it.
the apartment comment now. for some reason I did not read the last paragraph and assumed that picture was taken in the jungle.
Kim, 6-26-2005 with $22.56
...and dare me to move into your place? That bad or that good?