Righeira - Vamos A La Playa (I have no idea what I'm listening to)
This band has absolutely nothing to do with
United States of Electronica
.
Today I downloaded the video for Gwen Stefani's 'What You Waiting For?'. This song, as awful as it is, has a special place with me. When I was coming back from my Christmas vacation, I had to drive from San Diego at 3:30am to get back to Burbank to drop off the rental car, catch my flight, etc. The only thing that kept me awake was Southern California radio! I was screaming out the lyrics to Ms. Stefani's song (and that new U2 song, too), and it was a blast, as I drove through a horrible rainstorm that caused nearly 200 car accidents in the greater L.A. area!
Anyway, so today I decide to take a peek at the video. It's really just a combination of Alice and Wonderland, Japan, and Sex! There's so much sex in this video! Is that what music videos are? I had to wait until midnight to see that kinda stuff growing up. But, we do get to see Gwen stuck in a very small house, which I thought was kind of funny.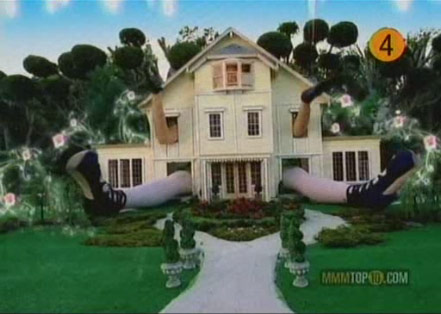 ...I just can't keep myelf from dancing to her intoxicating beat.
So you know what's in right now? Mancala! I played Mancala with Sara for a long-ass time last night, and it was really fun! You get to count, and stuff. And move fish tank marbles around. I must play more Mancala. Mancala = cool.
Hey, I might go to Korea this summer! Andrea and my co-worker homegirl
Sunmi
will be there, so I might as well go too. How crazy would that be? If I'm going to make this happen I'll need to learn this completely foreign language by May. Otherwise, my conversations will go something like this (translated into English):
Good day sir! Welcome to Popeye's. How may I help you?
Hello! Short ribs, pancake, game with sticks.
Sorry? Would you like a table for one?
BBQ beef, seaweed soup. Hello. Grab it.
I'm sorry sir, I don't understand what you're trying to say.
Straighten up! Samsung, Lucky Goldstar, Hyundai. Kiss, kiss, fart.
Bugger off, cracker.
...and that completely exhausts my current Korean vocabulary. I actually had a real conversation like that a couple years ago at the airport with some Korean travellers. They thought it was funny, thank God.
Elicia - your wish involving the Bush Devil will be granted soon. I'm in the business of granting wishes.

Name, 1-12-2005 with $16.10
Let's go to the beach, bitch!