I've got a great link for y'all:
metafilter.com
. It's a site that collects interesting links posted by anybody that happens to come along - bloggie style. Lots of good stuff, including
51 Thoughts on the Apparent Sexiness of John Edwards
and
these crazy things
.
Speaking of J-E, i saw the New Yawk Times
map-o-election persuasions
. At first it looked really, really scary, but that's because all the large states with low population seem to be pro-Bush (red), and all the swing states are orange, so all the 'hot' colors kind of dwarf the blue Kerry Komrades. Luckily, Kerry seems to attract the vote in states that pack a lot of electoral votes, so there's still hope. Oregon, you'd best give us Kerry or I'll be sad. Clicking the 'view map by electoral votes' button on that page is just cool.
Last week was a little rough - every day I was either meeting someone for Karikas Interactive, ushering for some theatre, or practicing for my Thriller dance (which was an amazing success - about 40 ppl showed up!). Speaking of which, I've placed videos online if anybody would care to see the exact part we'll all be dancing -
karikas.com/thriller
. I practiced w/ Andrea + James today and the video really helped us keep pace (and remember what the heck to do). I'm really looking forward to this - if you're in the Seattle area on the 29th (Friday), you'd best
come see the show
(look for the Halloween party link)!
Today I found out that d-tuning a guitar can have some fabulous results. I guess nothing really interesting has happened lately, other than the Thriller thang. Ok, tired now, g'nite.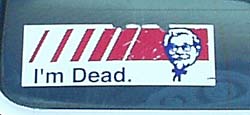 Bushie, 10-20-2004 with $22.40
Hey, all you Kurry supporters should look at this. Huh-- I mean, he forgot Poland!!?! Sorry about the blank comment before. The internets confuse me.
Andrea, 10-20-2004 with $22.37
You're so famous! I got a link to your uploaded thriller video through my CircusMail! I'm telling Michael (not your landlord). I'm sure he can use all the money he can get, with all those pesky legal fees.