The Boy Least Likely To - I'm Glad I Hitched My Apple Wagon To Your Star
First thing -
Awesomeness alert!
Check out the Sunset Tavern this coming Monday for
Kung Fu Grindhouse
All-Stars! The best of the worst movies you'll ever see, including the Filipino wünder-movie
Impossible Kid
. I'm getting there early! Also,
Edward Scissorhands, the Stage Adaptation
, is coming to the Fifth Avenue Theatre, which I'm excited about.
Speaking of movies, did you guys see 300? It was a pleasure to watch, but wow, what a testosterone driven flick. It didn't bother me that it wasn't historically accurate, but the goat playing pipes in the opium den was a little over the top, even for me (I didn't expect to bust out laughing during the movie... and yet I did there!). I enjoyed it, and came away with all the answers to every question I've ever had about Greek fraternities.
I had a birthday yesterday (props to Alfredo for noticing). I am now 25. I talked to my dad and he said "Happy Birthday son, God, I can't believe you're 23. (mumbled sound of my mom's voice) What!? You're 25!! How... what, how are you doing? Are you ok? Shit, when I was 25 I couldn't do anything for a couple of days, I was so depressed... how can you be 25? I haven't even been married that long, ha ha!" I am a little bummed about reaching a quarter century so soon, but am getting over it. 25 is the new 21, 30 is the new mid 20s. I can still apply for Top Model until I'm 27 so I'm feeling pretty good about that. I had a good birthday, I laid low and dragged Alice around to places I wanted to go, and had the most bomb sushi dinner ever at Fuji Sushi. I think my favorite part of birthdays anymore is just hearing from people I rarely get to talk to, who send a note, card, or even a MySpace message this one day. On another note, happy birthday
Jason
, whose actions I learn from exactly two years in advance.
And speaking of Jason, he tipped me off to what would be the best birthday present ever - an
RC Pirate Ship
,
yarrrgh!
Alice recently went to
China
and Hong Kong, which I was very jealous of. Despite being really sick when she came back (is there anything scarier than getting sick in China?) it was a good trip! In her absence I took a trip myself to the snowy peaks of Stevens Pass, finally snowboarding for the first and unfortunately last time this season. I went with
Jon
and an abundance of children, check it this mad air I got yo itz killar!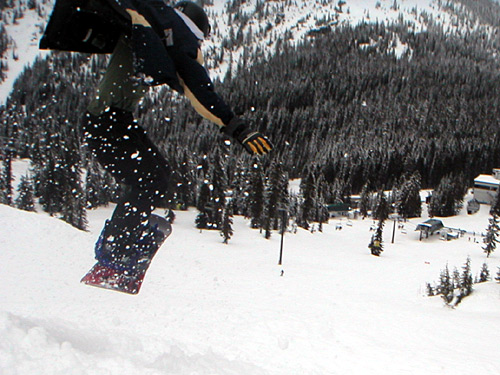 kat, 4-14-2007 with $22.04
happy birthday!!
also, the authorization code i am supposed to type in is RYAR which sounds very much like what a pirate says, and i thought you might appreciate that.